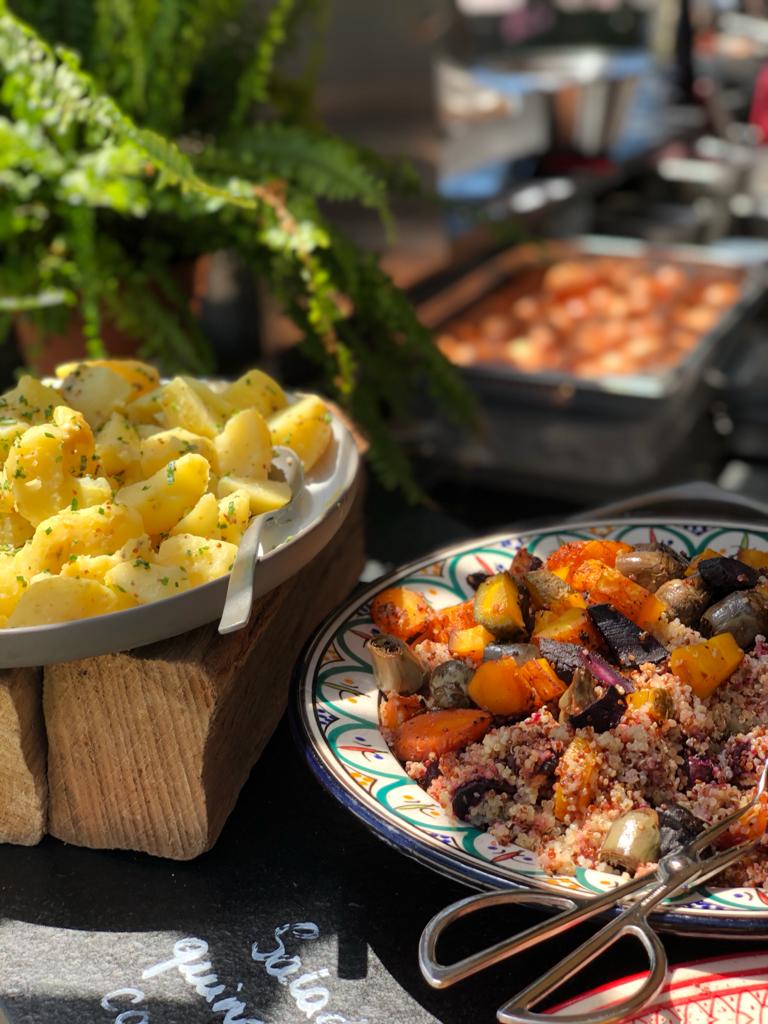 Sunday Brunch Juan Les Pins
What are Sundays made for ?
Brunching at Djunah of course !
Join us every Sunday from 11am for a Brunch in Juan Les Pins!
Perfectly positioned in front of the beach, snuggled in between Golf Juan and Juan les Pins, our utopian gardens, boho, dreamy and seemingly endless, give you the wow factor from the moment you arrive. It's the perfect spot for a  Sunday Brunch ! 
So be like the locals and take a refreshing early morning swim on Bijou Plage, before heading into the our shaded gardens to rejuvenate to indulge in a spot of dolce far niente 'sweet nothing' and of course a memorable lunch !
Whether you nibble your way through the selection of healthy and 'not so healthy' breakfast treats, dive into the mouth watering meats from the outside bbq grill or indulge in a succulent lobster…our Sunday Brunch, is a true Bruncher's delight !
All our products are carefuly selected and locally sourced, with both vegan and vegetarian options, making our brunch like Villa Djunah itself… Fresh, vibrant with a touch of spice !
To top it all off, keeping in the Djunah Style, our brunch's are always accompanied by live music, live from 12.30pm!
So come and take your time, sip on your Prosecco and savour the moment, as you slip into the Djunah Vibe.
Can't make Sunday lunch ? We're open all week !
With two experiences, relaxed dining or chilled garden vibes, both child and dog friendly, live music Thursdays and Weekend night DJs… Villa Djunah is truly unlike any bar or restaurant on the Côte d'Azur !
Don't take our word for it, take a closer look on Instagram !
To keep informed of our weekly events, monthly theme nights and current promotions, follow us on Facebook or sign up to our Djunah Newsletter !
Sunday Brunch at Villa Djunah the details
° Served 11pm to 2.30pm
° 48€ per adult including welcome Prosecco, fresh juice & a hot drink of your choice
°   Kids (0-3yrs) FREE (4-6yrs) 12€ (6-12yrs) 24€
+33970683150
Valet service every evening and brunch 10 €
Please note reservations are not needed for the Bar & Lounge, reservations are only recommended for the restaurant. For groups of more than 6 (drinking or dining) please contact us to guarantee your spot in paradise.
Djunah Brunch
Sunday May 30th – Le Coin Vinyles (Mother's Day) from 12.30pm & DJ Rhum G from 5pm
Sunday June 6th  – Live music with Between
Sunday June 13th – Festive Brunch with DJ Kailly Jensen
Sunday June 20th – Djunah Pop Up Market with  Le Coin Vinyles (Father's Day)
Sunday June 27th – Live music with Many'Sings
Villa Djunah
Bar, Restaurant, Gardens
Fresh, vibrant with a touch of spice !
#villadjunah